Cheesy Baked Romanesco Cauliflower and Green Beans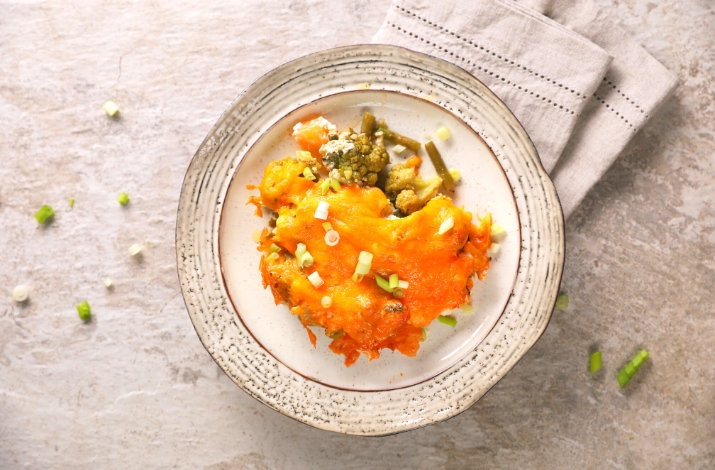 Recipe makes 4 servings  
Ingredients:
1 medium head (588g) Romanesco cauliflower, cut into small florets
3 cups (1lb/454g) cut fresh or frozen green beans
6 scallions (72g), trimmed and chopped
2 Tbsp chopped fresh parsley
2 cloves garlic, minced
2 Tbsp (27g) extra virgin olive oil
Salt and pepper to taste
1/2 cup (119g) heavy cream
1/4 cup (25g) grated Parmesan cheese
3/4 (169g) cup cream cheese
1/2 cup (57g) shredded mozzarella cheese
Instructions:
Preheat oven to 375°F (190°C).
Mix Romanesco cauliflower florets, green beans, scallions, parsley, minced garlic, and olive oil in a bowl; season with salt and pepper to taste. Spread the vegetables evenly in a baking dish.
Heat the heavy cream in a small saucepan over medium heat until it simmers. Remove the saucepan from the heat and stir in Parmesan and cream cheese until melted and combined.
Pour the cream sauce over the vegetables, coating them evenly. Sprinkle the shredded mozzarella cheese on top.
Bake for 20 to 25 minutes or until the cheese has melted and is golden brown.
Let cool for a few minutes before serving.
Nutritional breakdown per serving (recipe makes 4 servings)
457 Calories
14.4g Protein
38.1g Fat
6.8g Fiber
18.7g Total Carbs
11.7g NET Carbs