Hake with Fennel and Chorizo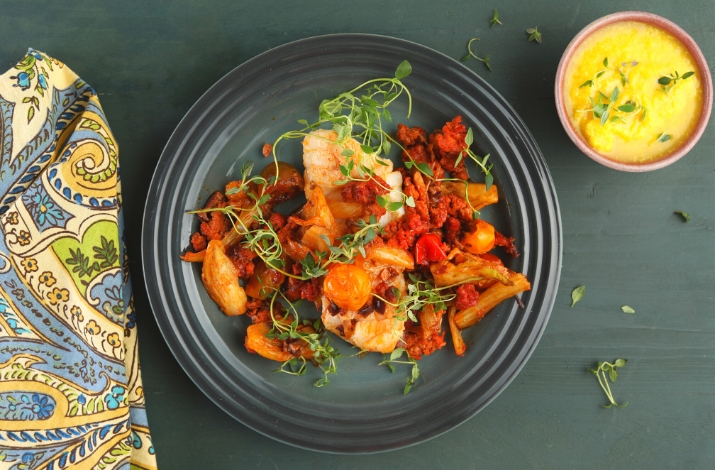 The recipe makes 4 servings
Ingredients:
4 (6oz/170g each) hake filets
Salt and pepper to taste
3 Tbsp (40ml) extra virgin olive oil
2 medium bulbs (300g) fennel, thinly sliced
1 medium onion (110g), thinly sliced
2 cloves garlic, minced
1 cup (180g) cherry tomatoes, halved
4 oz (112g) chorizo, thinly sliced
1/2 cup (120ml) chicken broth
1 Tbsp fresh thyme leaves
1 lemon, cut into wedges, to serve

Instructions:
Season the hake filets with salt and pepper.
Heat the olive oil in a large skillet over medium-high heat; add the hake filets and cook for 3-4 minutes per side or until golden brown and cooked through. Remove from the skillet and set aside.
Add the fennel, onion, garlic, and cherry tomatoes to the same skillet and cook until softened, about 5 minutes. Stir in the chorizo and cook until crispy; pour in the chicken broth and bring to a simmer. Return the hake filets to the skillet and spoon the sauce over the fish.
Cook for 2 to 3 minutes or until the fish has warmed through and the sauce has thickened. Sprinkle thyme leaves over the fish.
Serve with lemon wedges.

Nutritional breakdown per serving (the recipe makes 4 servings)
394 Calories
35.2g Protein
23.7g Fat
4.0g Fiber
11.1g Total Carbs
7.6g NET Carbs