Spaghetti Squash Casserole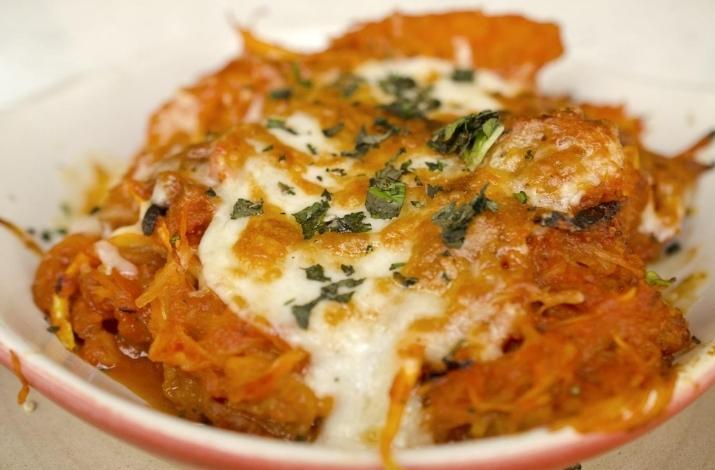 Preparation time: 10 minutes
Cooking time: 95 minutes
Serve: 8
Ingredients:
1 3lb. spaghetti squash
2 tablespoons olive oil
4 cloves garlic, minced
½ tablespoon Thai curry paste
1lb. ground pork
0.5lb. ground beef
1 cup half-and-half
1 cup marinara sauce, no sugar added
½ cup grated Parmesan
14oz. ricotta cheese
1 large egg
1 teaspoon dried basil
Salt and pepper, to taste
6oz. slices mozzarella cheese
Instructions:
Preheat oven to 400F and line a baking sheet with parchment paper.
Cut the squash in half and remove seeds.
Brush the squash with 1 tablespoon olive oil and season to taste with salt.
Transfer the squash onto a baking sheet. Roast the squash 30-35 minutes or until tender.
Pull the squash threads with a fork and transfer into a bowl. Place aside.
Heat remaining olive oil in a skillet. Add garlic and Thai paste, and cook until fragrant.
Add the ground pork and beef. Season the meat to taste and cook until browned.
Pour in the half-and-half, marinara sauce, and give it a gentle stir. Simmer the mixture for 15 minutes.
In the meantime, combine grated parmesan, ricotta, egg, and basil in a bowl. Season to taste. Grease baking dish with some oil. Place the squash threads in the bottom of the baking dish. Top with the cheese mixture, and meat mixture.
Finally, top the meat with mozzarella slices.
Reduce oven temperature to 375F. Cover the casserole with aluminum foil, and bake for 25 minutes. Uncover and bake for additionally 20 minutes or until golden.
Serve warm.
Nutritional info per serving:
Calories 511
Total Fat 38g
Total Carbohydrate 8.6g
Dietary Fiber 0g
Total Sugars 0.5g
Protein 32.7g