Hazelnut Kefir Ice Cream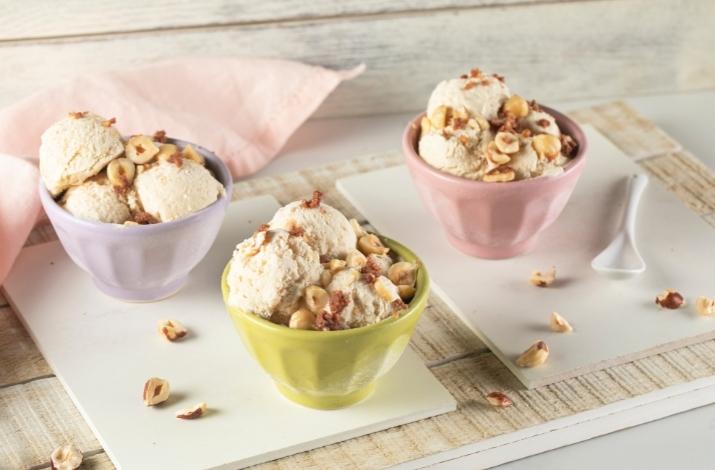 Recipe makes 6 servings
Ingredients:

2 1/2 cups light cream or half and half milk
1/3 cup sugar-free sweetener of choice
1/2 cup roasted hazelnuts, ground (reserve 2 tablespoons for garnish)
2 Tbsp arrowroot flour (optional, for a creamier texture)
2 cups plain unsweetened kefir
1/4 cup cream cheese
2 scoops HLTH Code Creamy Vanilla
1/8 tsp salt
2 tsp vanilla extract
1 Tbsp HLTH Code Chocolate Macadamia
Instructions

Heat two cups cream, sweetener, and ground hazelnuts in a saucepan over medium-low heat until barely reaching a boil.
Whisk the remaining 1/2 cup cream with the arrowroot flour (if using) and add to the saucepan; cook, stirring continuously, until thickened, about 5 minutes.
Whisk together kefir, cream cheese, HLTH Code Creamy Vanilla, salt, and vanilla extract in a large bowl and stir in the cream mixture. Chill in an ice bath before pouring into an ice cream machine and freeze according to the manufacturer's instructions.
To serve, remove the ice cream from the freezer and let soften for about 10 minutes before scooping out and serving.
Mix the HLTH Code Chocolate Macadamia with the reserved ground hazelnuts and use to garnish the ice cream.
Nutritional breakdown per serving (recipes makes 6 servings)
400 Calories
12.5g Protein
34.2g Fat
2.6g Fiber
11.8g Total Carbs
9.2g NET Carbs