Roasted Chicken with Cheese and Veggies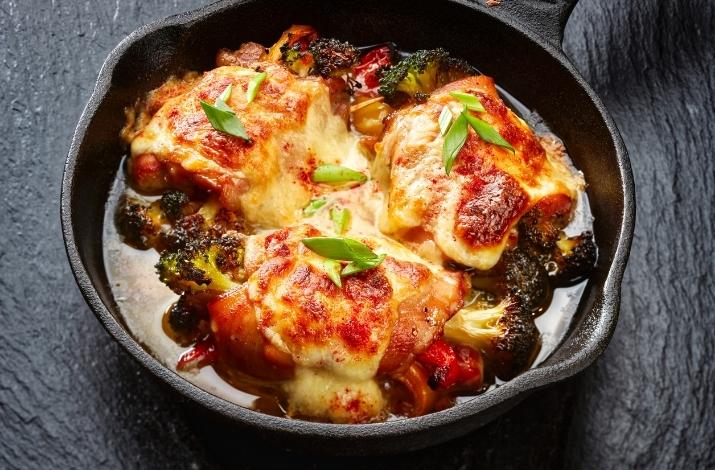 Preparation time: 10 minutes
Cooking time: 35 minutes
Serve: 4
Ingredients:
– 2 tablespoons olive oil
– ½ red bell pepper, seeded, cut into strips
– 1 yellow bell pepper, seeded, cut into strips
– 2 cup broccoli florets
– 8oz. mozzarella cheese, sliced
– 1lb. chicken thighs meat, skinless, boneless
– 1 teaspoon paprika
– Salt and pepper, to taste
Instructions:
1. Preheat oven to 375F.
2. Heat 1 tablespoon olive oil in a skillet.
3. Add bell pepper strips and cook for 5-6 minutes over medium-high heat or until the bell peppers are softened.
4. Gently pound the chicken meat to thin it down.
5. Rub the chicken with salt and pepper.
6. Divide the bell peppers evenly among the chicken.
7. Sprinkle 4oz. mozzarella over the bell peppers. Cover the filling with the second layer of chicken and secure with toothpicks.
8. Heat remaining olive oil in a cast iron skillet.
9. Fry chicken breasts for 2 minutes per side. Toss in the broccoli and cook 1 minute.
10. Top the chicken with remaining mozzarella and season with paprika.
11. Transfer the chicken in oven and roast 25 minutes.
12. Serve warm.
Nutritional info per serving:
– Calories 432
– Total Fat 33.3g
– Total Carbohydrate 5.2g
– Dietary Fiber 1.6g
– Total Sugars 0.8g
– Protein 29.4g